The easiest way to deliver any kind of presentation. Period.
Send your prospects a link to instantly view your presentations in real-time as you go through it, no screen-sharing or software required
Try delivering a presentation through Slidecast and you'll never want to go back!
We've all had prospects fall through the cracks, simply because they couldn't find the meeting link, or because they give up when they see they have to install software to join the call. Slidecast lets you skip all that.
No downloads

No software to install

Save time

Increase efficiency

Skip the technical headaches

Close more deals
Slidecast is your simple slide presentation solution that lets you:
Build professional sales decks and marketing presentations effortlessly with built-in templates
Create professional, effective presentations more easily than you ever imagined. Import your PowerPoint files to quickly convert them into a Slidecast presentation, or use one of our hundreds of built-in templates to build one.
Share Anytime, Anywhere, Instantly.
Send a link via text or email to share presentations to any computer or smartphone instantly. Slidecast is browser-based, so there's no need for your recipient to download, login, or install anything to view your presentation. Presentations work perfectly on any device, every time. Once you use Slidecast, you'll wonder how you ever did a presentation without it!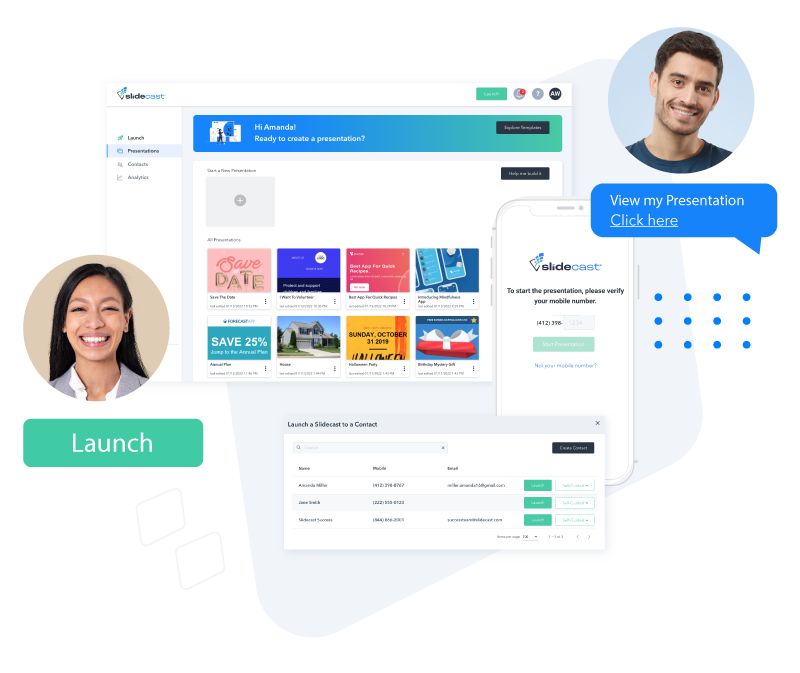 See real-time analytics and have the information you need to close the sale
With Slidecast, you get access to behind-the-scenes analytics which show you exactly how a particular prospect interacts with every single slide in your presentation. Monitor their engagement during your presentation, identify drop-offs and sticking points, and gain insight on how best to follow up to close the sale.
Limited only by your creativity
How different teams can use Slidecast to streamline their workflow:
Sales and Marketing Presentations
Seamless sales presentations and the data / analytics that you need to close more deals
Internal Meetings / Investor Presentations
No more wasting time trying to get everyone on Zoom – allow any participant to instantly see the presentation you are delivering, from any computer or phone
Educational Presentations
Dynamic and interactive educational experiences that remove tech as a barrier to learning or paying attention
Hiring / Onboarding / Training Presentations
Communicate the right information reliably and train staff in a simple yet extremely flexible way
Present in the ideal format for any situation

1. Guided Slidecasts (1 on 1 presentations) They see what you see. Guide the prospect through the presentation slides in real-time.
2. Self-Guided Slidecasts
Allow the prospect to review the slides independently and at their own pace, through pre-recorded audios that guide the prospect through the presentation at a set pace
3. In-Person Slidecasts
Meet face-to-face and guide prospects through the presentation on their own devices or on a shared screen
4. Broadcast Slidecasts (one to many presentations)
A Slidecast where any number of people can join. These are ideal for when you're in a conference environment, or hosting an online meeting and would like your audience to look at your presentation on their devices. The benefit is that their device becomes the canvas for your content as you lead the whole group through.
Why customers pick Slidecast
BE MORE EFFICIENT
When giving a presentation in your business, time is money, and using PowerPoint + Zoom for your presentation process is far too slow and prone to glitches! Use Slidecast to do in 1 step what used to take you 10 steps.
CLOSE MORE DEALS
Communicate more effectively, create a great impression, avoid common presentation tool hangups, and use real-time engagement analytics to nail that next big deal.
"BUT WHY CAN'T I JUST USE ZOOM / [OTHER DIRECT COMPETITOR]?"
Sometimes all you need is a meeting link for an informal call. But when you are giving the pitch that could change everything if you land the deal…you need to bring your presentation A-game, software included. You can't afford for the call to drop, the screen-sharing to fail, or the prospect being unable to join! Use Slidecast and you'll never lose another sale from those everyday issues.
Revenue Dollars Across Multiple Companies
Integrations
Design Like a Pro with Slidecast's Canva Integration
We've partnered with Canva, a popular design tool that everyone is using, to make designing your presentations easier than ever before. Our integration with Canva allows you to use Canva's design tools to create beautiful slides and presentation graphics with their intuitive drag and drop design editor. Then, simply push your slick new designs to Slidecast, deliver through our powerful presentation platform, and track engagement data with presentation analytics. 
Integrations
Slidecast Integrates with Leading CRM Platforms
Sync with Salesforce, HubSpot, or Zoho and create workflow triggers to automatically…
Sync and add leads with your CRM

Sync with your marketing campaigns

Trigger automatic prospect communications based on their behavior
Integrations
Use Slidecast's Zapier Integration for Everything Else
Sync your data to Google Sheets, ActiveCampaign, SalesForce, or just about any other tool you'd want to connect

Automatically pass data between your tracking systems


Create workflow automations with triggers to take specific actions, even in between different tools and accounts, automatically
"They didn't have to download an app or figure out how to get on a Zoom call. We could have them simply click a link in a text or email, and they were viewing our presentation instantly, and we were in control of what they were seeing on their screen."
"I am very grateful we had Slidecast when COVID hit, because it allowed us to reach customers who we could no longer meet with face to face. It was a game-changer because it made it so easy for us to demonstrate what we do."
"We discovered that we could help a lot more people than ever before because Slidecast gives us the ability to meet remotely with people who live too far away or unable (for other reasons) to visit us in person."
Sign up today and get started for free!
Slidecast Base Plan includes core free features, along with a 14-day trial for many of the premium features.
Still have questions about Slidecast?
Not a problem. Reach out here and we can show you how it works and answer any questions.