Looking for a graphic design tool that gives you a better way to create images, presentations, and other graphics?
Canva is a top-of-the-line graphic design tool that makes it crazy easy to generate all kinds of designs. It's extremely powerful and simple, even if you aren't a graphic designer.
Canva is an excellent choice for designing presentation slides. Let's see how to create Canva Presentation.
Steps to Create Canva Presentation
Step 1 – Select Presentation When Creating a New Design 
Once logged into Canva.com, click the 'Create a design' button in the top right corner.
This is where you select the type of design to create. Canva has many options, including PDFs, Instagram, and Facebook posts. To create Canva presentation, select 'Presentation (16:9).
Step 2 – Pick a Template to Set the Backgrounds for Your Slides
The first step to create Canva presentation design is to pick a template. Canva offers you about 250k templates on a free plan and 610k with Canva Pro.
You can filter through the list by…
Selecting the industry / associated keyword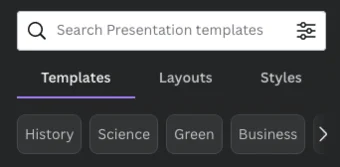 Or by filtering based on the color scheme of the template (click the filter button in the search box)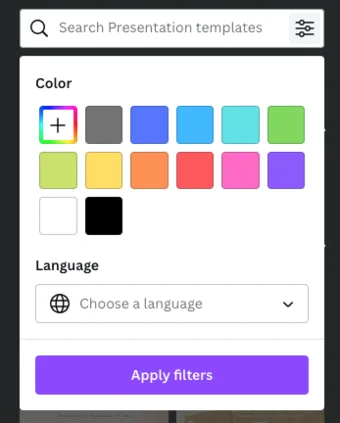 When you select a template, you can apply the design for just one slide or the entire set of slides that come with the template (for example, a set of 10+ slides) by clicking 'Apply all ten pages'. 
If you want to add a type of slide that is not contained within the template, you can use the 'Layouts' option to quickly select and add a new slide type with a particular layout.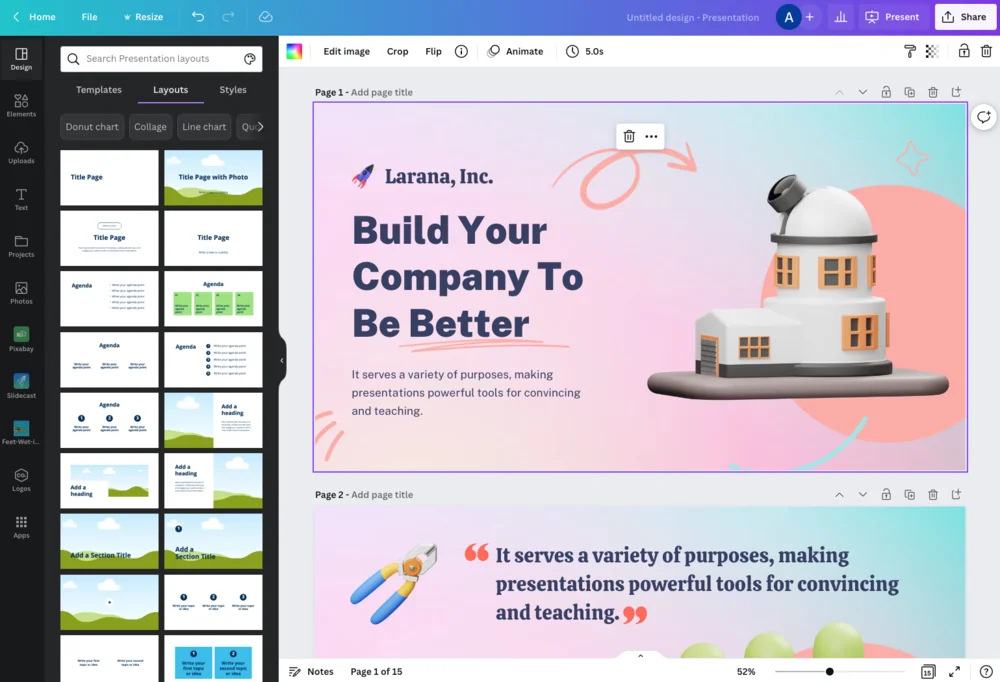 Step 3 – Add Slide Text
Select 'Text' on the left-hand menu, and you'll see how to add different text boxes (heading, subheading, body text, etc.).
You can edit the existing text blocks (for example, the ones that come pre-loaded when you apply templates) by double-clicking on the text box you want to change. 
Towards the top above the slide you'll see various options for adjusting the design attributes of the text. Of course, the typical font type, font size, font alignment, and font color options exist.
But you'll also see one button to add 'Effects' to your text, and another to add animations. Play around with the options and you'll quickly know how everything works. 
Step 4 – Add the Logos and Images You want to Add.
To finish up your presentation design, you can use four final tools.
On the left-hand sidebar, you'll see:
Uploads – this is where you can add any additional images or graphics that you have saved on your computer
Logos – shows your pre-saved logos to add to your slides.
Elements – where you can add different shapes, icons, tables, photos, charts, and other design elements.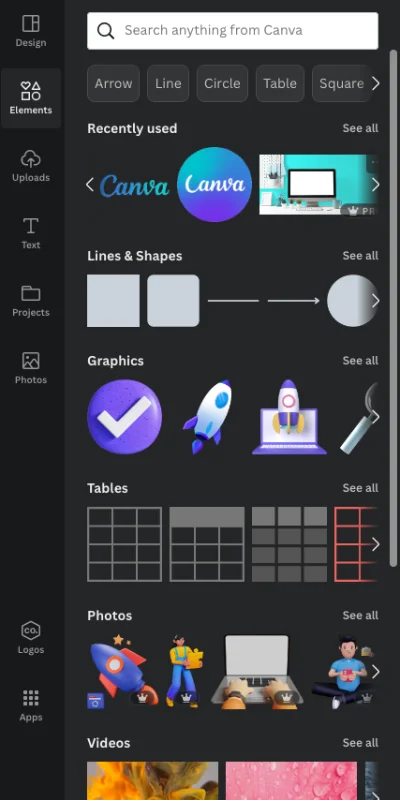 Styles – You can use this to adjust the color palette of the template you are using and to pick sets of font styles (heading, subheading, and body text fonts) and combinations of the two.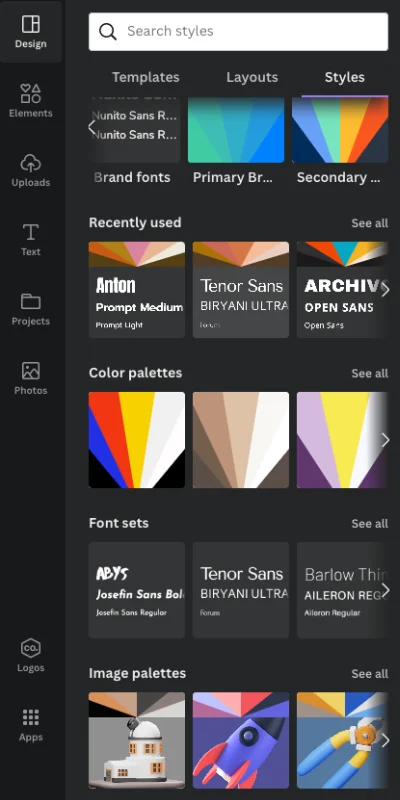 Step 5 – Finish, Save, and Export
Canva is set by default to auto-save your work, but it is still a good thing to double-check as you wrap up your design. 
Then click 'Share' on the top right-hand side.
There you'll see various options for exporting or downloading your slides. You can download the slides as individual images or the whole presentation as a PDF. You can export your presentation to PowerPoint or Google Drive or embed it on your website. There are tons of options!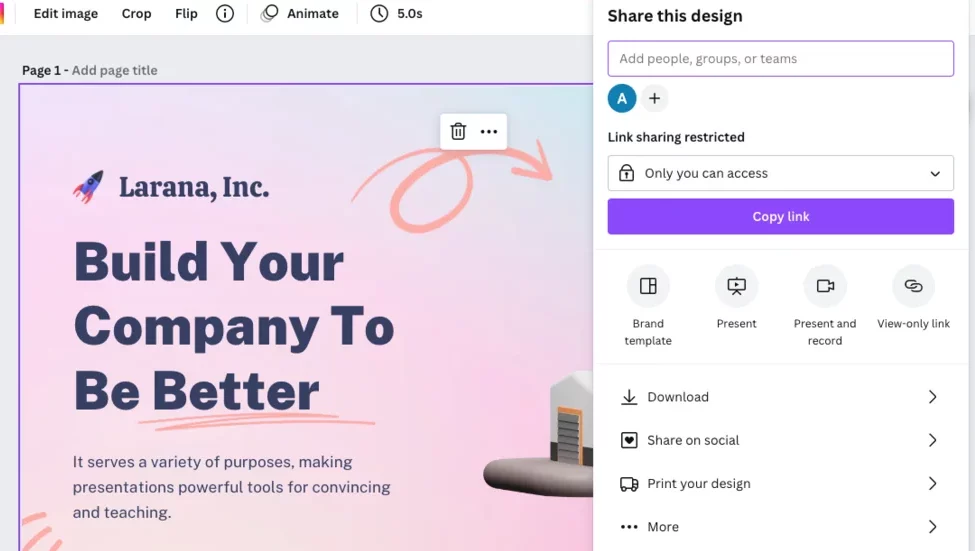 Canva Cool Design Features
You can do way more than simple graphics with Canva. The platform has an incredible variety of design tools. 
Some examples:
Font effects

Graphs, charts, and infographics

Icons

Stickers

Gradients

Colors picked from a photo while designing

Styles (color and font pairs)

Animate a graphic

Add video (including stock video)

Add music to a video you create
Why Should You Choose Canva Presentation Over Other Presentation Tools? 
When it comes to designing presentation slides, Canva is one of the best options out there. Especially when compared with something like PowerPoint, Keynote, or Google Slides.
It's far and away one of the most user-friendly platforms, allowing you to create some truly brilliant designs…even with zero design skills. 
While it takes a bit more time to create Canva presentation, this should still give you an idea of how fast and easy it is to use. 
Canva Best Features
Pre-sized social media images (and 100+ other design types)

100+ million premium stock images, photos, graphics, and even video

>610,000 professional-level templates

Cloud-based design platform that automatically saves so you don't lose your work

Create a brand kit to apply to your designs with pre-set brand colors, fonts, and logos.

Export designs as animated GIFS or MP4 videos




Schedule social media content to go out across eight platforms

One-click background remover – click to remove image backgrounds; perfect for product photos, headshots, or transparent PNGs.
Instant animation – Experience the easiest way to animate your graphics and watch your designs come alive.
One-click resize designs – Resize your work in any design type with just a click.
What Third-Party Integrations Are Available with Canva Presentations? 
There are over 100 apps that integrate with Canva via their app marketplace, including:
Screen
Apply screen effects to your image
Slidecast
Share designs with Slidecast to analyze engagement
Edgar
Upload your designs to MeetEdgar
Repurpost
Upload your designs straight into your strategy
Quicc
Add Quicc captioned and subtitled videos to Canva
SocialPika
Post designs to your social media accounts
Beaconstac QR
Add Dynamic QR codes to your designs
Shadows
Add a shadow around your images. Take a 2-D image and give it a 3-D effect to help it stand out in your design.
Smart mockups
Transform any image into a product markup
TINT
Add user-generated content to your Canva designs
Box
Keep all your files in one place with Box
LoudDoc
Publish your design to LoudDoc and add narrations
Gain
Get approval for your Canva designs in Gain
Pricing For Canva Presentations
The price of Canva ranges from free (for their basic account, and also for teachers and students) up to 15 bucks a month for Canva for Teams. 
The main paid plan is called Canva Pro and costs $12.99 / mo (or about $10 / mo if you pay annually).
Here's a highlight of some of the different features available with a free Canva account versus Canva Pro. 
Free Canva Account Features
250k templates across 100+ design types

Over 1 million free photos and graphics to use

5GB cloud storage

Export in various file types (PDF, PNG, JPEG, etc.)

Create custom dimension graphics

Share view or edit access with your team
Canva Pro Features
Access to 610,000 templates across 100+ design types

Over 100 million premium stock images, photos, graphics, and even video

1 TB cloud storage

Create a brand kit to apply to your designs with pre-set brand colors, fonts, and logos. 

Resize designs with a single click

Export designs as animated GIFS or MP4 videos

Schedule social media content to go out across eight platforms
What are the Pros and Cons of Using Canva?
Canva is used for all sorts of designs, from social media posts to presentations (which is what we'll be talking about here). It's grown in popularity tremendously, and claims to have over 10 million users today.
Canva Pros
Simple & user-friendly

Good selection of preloaded fonts

Drag-and-drop designer

Price (can do a lot for free, and paid isn't too expensive)

Pre-formatted designs (like an Instagram story, or a Facebook banner)

Collaboration on designs (even on the free plan)

Brand kits – Create Canva presentation or designs with a consistent aesthetic

More recently can do some cool things with animating graphics, adding audio narration, and even editing videos
Canva Cons
The cons are few and far between, honestly. But if you are wondering about possible downsides, here are a couple that might annoy some specific groups of people trying to do very specific things.
Simple means not fully controllable (find for most but means you can't change every little thing in a 100% custom way)

A little bit of a 'Canva look' – since the platform is built around templates, they have a kind of look and feel.

Moving elements between designs is a headache (there's not an easy drag and drop way of doing it)

Alignment of elements can be a little bit annoying at times

Some possible concerns about IP (intellectual property). Canva could theoretically go in and delete all your designs. This hasn't happened, and isn't likely, but there might be some intellectual property implications for certain types of businesses.
Frequently Asked Questions
1. Can Canva be Used for Presentations?
Yes – Canva is a great tool for designing presentation slides, though it can create many other types of graphics.
2. Is Canva Better than PowerPoint?
While some might prefer PowerPoint, for most people and businesses, Canva is the better option. Canva is easier to use and allows you to create more complex designs. Canva also has way more (useful) features. It also has >250k design templates versus the handful of (very basic) templates from PowerPoint.
3. How do You Present a Presentation in Canva?
You can either export (download) the presentation or use their live presentation mode by clicking 'Present' in the top right-hand side of your screen.
4. Can I Convert a Canva Presentation to PowerPoint?
Yes – Canva has the ability to download your slides as a .pptx file.
5. How do I Get Canva Pro for Free?
Yes – Canva Pro is free for teachers and students. More info available here: Canva for Education
6. Can You Transfer Canva to Google Slides?
Yes – select Google Drive for the export option. And then, once it's uploaded, open the file and click save as Google Slides.
7. How do I Save a Canva Presentation on Google Drive?
Click Share > Click More > Select Google Drive
8. Is the Canva Program Free?
Free-for-life accounts are available with limited use. Canva Pro is available for free for teachers and students.
9. How Long is Canva Free?
Forever for the basic account. For free trials of Canva Pro, those last 30 days.
10. How do I Save in Canva without Paying?
It's free to do so if you haven't added any premium (paid) design assets.
11. How do I Get Canva Pro Lifetime Free?
Canva Pro is free for teachers and students. More info available here: Canva for Education
12. Is Canva Worth the Money?
Since it's pretty cheap and extremely powerful, it's worth trying out.
13. Do Students Get Free Canva Pro?
Yes – more info available here: Canva for Education
14. Do Teachers Get Canva Pro for Free?
Yes – more info available here: Canva for Education
15. Is Canva for Education Free Forever?
Yes – more info available here: Canva for Education
16. Which is Better, Canva Pro or Canva for Education?
They are the same.
17. Who is Eligible for Canva for Education?
Teachers and students – more info available here: Canva for Education
18. What is the Purpose of Canva?
To make graphic design easier and faster, especially for non-designers.
19. How do Teachers Use Canva?
To make better-looking and more interesting designs for the classroom…much faster.
20. How do I Sell a Canva Template?
Sign up to become a contributor with a single click. Then upload your work, and Canva will review it. You can sell a wide range of designs in Canva.
Learn more here: Canva contributors.
21. Can I Sell Something I Made on Canva?
Yes
22. Is It Profitable to Sell Canva Templates?
Some people report making up to 2k USD per month
How to Sell Canva Templates and Make Money
23. How do You Upload a PowerPoint Presentation to Canva?
Click 'Upload' from the website, then drag your PPT presentation file onto it, and you're ready!
24. Can You Download the Canva Presentation as a PPT?
Yes – you can download files as .pptx
25. How to Download a Canva Presentation?
Click Share > Click Download > Fill out options > Click Download
26. How to Add a Voice Recording to a Canva Presentation?
Click Share > Select 'Present and Record' > then click 'Start Recording'.