THE QR CODE JUST GOT AN UPGRADE WITH SLIDECAST:
THE TOOL CHANGING THE GAME FOR REAL ESTATE MARKETING
Bridge the gap between foot traffic and your marketing with Slidecast – the best QR code generator for tracking prospects and buyers in real estate.
Maximize Engagement and Improve the Marketing with Slidecast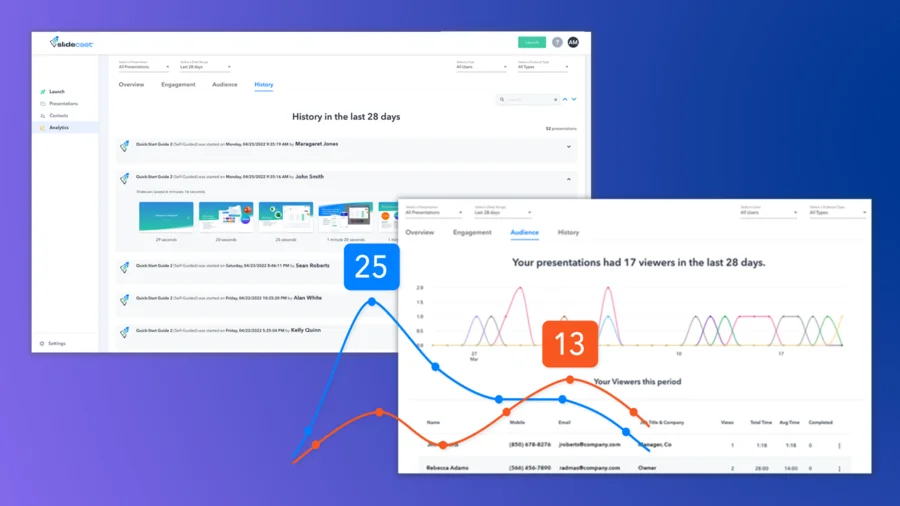 Track what happens past the scan with Slidecast analytics
Get analytics on everything the prospect does after scanning the QR code. Use Slidecast's advanced analytics to see how often your code is being scanned, including the exact date, time, and device. You can also see how the prospect engaged with your marketing materials on the other side of the code.
Personalization to grab their attention
Deliver them to a presentation or virtual listing with everything tracked. Introduce yourself with a personalized video to everyone who scans your QR code.
Workflow and marketing automations
Get a notification the instant someone scans your code. Follow up with them immediately while they are still engaged and actively viewing your listing.
Make life easier for both you and prospective buyers
Prospects use the QR code for instant and easy access to all the most vital information about the property. Realtors using Slidecast QR codes enjoy more accurate contact collection and don't have to worry about being able to read bad handwriting or getting the wrong email on a sign-in form.
Supercharge your check-in process
Upgrade your check-in process by having guests scan a QR code instead of signing a guest book and taking a brochure. The QR code can contain all the resources they need when buying the house, including property features, contracts, permit requirements, prices, market trends, agent bios, and other properties.
QR codes for yard signs, mailers, and more
Maximize every opportunity to gather contact information through QR codes placed throughout an open house, on business cards, yard signs, or window clings. You can even add a QR code to a physical mailer to instantly bring prospects to a website without having to manually type out URLs.
Sign up today and see how Slidecast can change the way you market your properties!
Slidecast Integrations
Slidecast seamlessly integrates with leading companies and tools you use to run your business, including leading CRM platforms and marketing automation tools.
Canva – graphic design tools and templates
Use Canva's design tools and hundreds of thousands of templates to quickly and easily create beautiful graphics to use in your marketing materials.
CRM platform integrations
No more tedious data entry. Automatically sync data between Slidecast and HubSpot, Zoho, or Salesforce, saving an incredible amount of time. Trigger automated workflows or follow-up marketing campaigns from your CRM to create new touchpoints.
Zapier – workflow automations
Connect Slidecast to any other tools you use, through Slidecast's integration with Zapier. Enhance your workflow, and easily build fully customizable automations and integrations.
FAQs About QR Codes for Real Estate
What is the purpose of QR codes in real estate?
QR codes have various applications in the real estate industry. They can be used by real estate agents to provide their contact information to potential clients in a quick and easy manner. QR codes can be placed on signs or flyers for individual properties and when scanned, they can provide all relevant information about the property. During open houses, attendees can scan QR codes to sign in virtually or access forms needed to start the application process.
How can I generate a QR code for my open house?
There are several tools that you can use to generate QR codes. Choosing the right QR code generator depends on your needs, so it's worth looking at different QR code generators and their plans and prices. For instance, Slidecast offers a free base plan, however you might need some of the functionality on the paid plans. Either way, in a few clicks you can easily generate a QR code for any open house in just a few seconds.
How do QR codes benefit open houses?
In the traditional open house setting, guests usually leave their contact information in a guest book and realtors try to handle multiple questions from interested buyers or renters. This can result in missed information if guests write legibly or if there are too many guests for the realtor to handle. QR codes linked to an online guest book can increase the chances of proper contact information being gathered and codes linked to all relevant information about the property can allow realtors to focus on specific questions instead of repeating the same information. QR codes can also link to the necessary forms for a more efficient application process.
What is a QR code in real estate?
A Quick Response (QR) code is a square or circular pattern that links to an online location or contains instructions for smart devices. Most modern smartphones have the capability to scan QR codes using their camera. When a code is scanned, the user is taken to the specified online location or the instructions are executed. In real estate, QR codes can be used to gather contact information from potential clients, provide easy access to a realtor's contact information, offer information about individual properties, or even initiate the application process for leasing or buying.
What are the advantages of using QR codes in real estate?
Real estate agents utilize QR codes to gather contact information, drive potential buyers to their listings' websites, schedule open houses, and more. QR codes offer quick and efficient connections, making them a popular choice among many real estate agents.
The possibilities of QR codes are only limited by their creators' imagination. They are often used to move people from an offline platform to an online one, for example, by directing them to promotions, educational videos, menus, documents, or online experiences like surveys, games, and more.
Why should I include QR codes in my listings?
By adding QR codes to your listings, you immediately connect buyers to all your sales materials, allowing them to make informed decisions about your properties quickly. Share virtual tours, community details, listings of other available properties, and gather contact information from potential buyers.
Sign up today and get started for free!
Slidecast Base Plan includes core free features, along with a 14-day trial for many of the premium features.